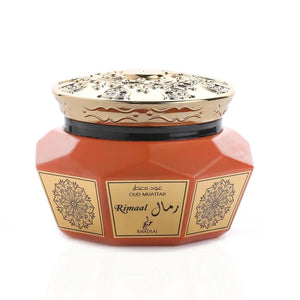 Khadlaj Oud Muattar Rimaal 40gm
SKU:
6291107974408
Experience a truly captivating aroma with Khadlaj Oud Muattar Rimaal. Our luxurious, top-quality oud muattar is a special mixture of natural oud ingredients to create a fragrance that will enhance the mood and fill the soul with joy. Try our oud muattar today and feel the deeply soothing aromatherapy effects.
It offers a perfect accessible way to cover unwanted household smells like cooking, pets, damp clothes, etc as it releases its famous fragrance slowly and evenly into the air.
Top Notes: Orange, Bergamot, Apricot

Middle Notes: Rose, Jasmine

Base Notes: Patchouli, Vetiver, Vanilla
---
We Also Recommend
---