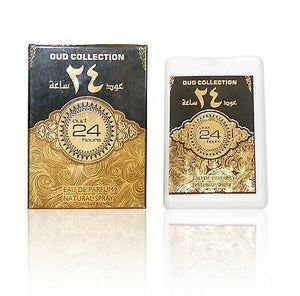 Ard Al Zaafaran Oud Collection Oud 24 Hours Edp 20ml Mini
SKU:
6425836975898
The practical solution for the road Due to the flat dimensions, the spray fits in any pocket. This makes this an ideal and highly recommended gift A versatile scent that is perfect for all events
Oud 24 hours by Ard Al Zafraan is a very Exclusive and famous Eau De Perfume Spray it is a perfect blend of the finest oud which gives a beautiful aroma of agarwood vanilla & patouchilli Similar to the tom ford black orchid perfume.
Oud 24 hours is filled in an exclusive, depicting strength of this lingering scent. A Gorgeous Elegant Black & Gold bottle with a beautiful outer box.
Fragrance Notes:
Top notes: Jasmine, Gardenia, Blackcurrant, Lemon, Bergamot, Mandarin, Tuber
Heart notes: Orchid, Spicy notes, Fruity notes, Lotus
Base notes: Vetiver, Patchouli, Sandalwood, Incense, Amber, Chocolate, Vanille
Size: 20ml
Pocket Spray
---
We Also Recommend
---